Rita1652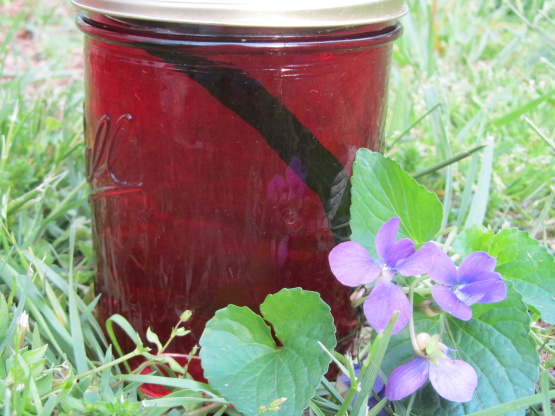 This lavender syrup is so pretty and it is great with club soda or ice water. Now you can use all those pretty violets growing in the back yard! Make sure to use clean, unblemished flowers! Cook time is an estimate. The kids will love to help with this!

this is just beautiful! I did make using the vanilla bean that I used in my Recipe #90601. I couldn't just let it go yet and it did add wonderful flavor to the syrup. I did boil all the ingredients together and it did come out fabulously! Saving to use for Mother`s Day! Thanks Sharon.
Select only the freshest and most unblemished violets. Place violet petals in a deep bowl and pour the boiling water over them. Weigh down with a heavy dish to keep them submerged. Place the bowl in a draft-free place at room temperature for 24 hours.
Line a colander with layers of rinsed cheesecloth(I use a clean terrycloth towel) and place over a bowl. Pour violets and liquid into colander, squeezing out juice from the violets; discard the violets.
Place sugar, lemon juice and water in a saucepan and boil into a very thick syrup.
near the candy stage. Add violet water and bring to a rolling boil. Boil 10 minutes or until thickened. Pour into sterile bottles. Allow to cool, then seal and refrigerate. Serve with ice water or club soda.
VARIATION: Substitute 4 cups fragrant rose petals and add 1 cinnamon stick per bottle of syrup. Yield: 2 quarts.