Vintage Hamburger Goulash
teresas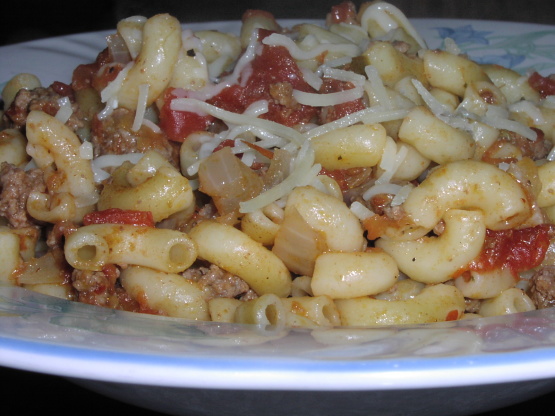 Tried and True, husband rated favorite. Few Ingredients and Quick to make.

Comfort food...we loved it...I cut the recipe in half and there was plenty for dinner and lunch the next day...the dish was very dry the next day but just added in a little liquid and it was still delicious...I used a can of Rotal tomatoes...next time I will use the crushed tomatoes...I sprinkled a bit of Parmesan cheese on top...
Saute beef, 1/2 tsp of red pepper flakes and 2 onions in large frying pan. Drain excess fat. Lots of onions makes this good.
Meanwhile, in another pan cook macaroni in boiling, salted water until tender (approximately 5 minutes for the smaller sized macaroni). Set aside until almost ready to serve.
When beef and onions are finished cooking, add the canned crushed tomatoes and approximately 1/2 cup water. Add garlic salt, pepper, chili powder and mix well.
Simmer for about 20 minutes; then add cooked macaroni noodles and mix well when ready to serve. If you add the macaroni noodles too soon, they may over cook and get mushy.
This is one of my husbands favorite recipes from his mother when he was growing up -- it''s still a favorite today.