Vintage Fresh Mushroom Soup
Erin R.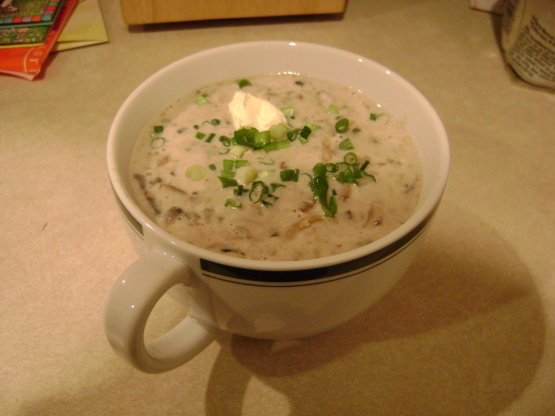 This is my favorite light soup to start a guest dinner. It came from the 1975 edition of The American Heart Association Cookbook and varies significantly from the 1998 fifth edition version I posted as Fresh Mushroom Soup "Fresh Mushroom Soup". I use a lot of mushrooms, and prefer to see my mushroom slices as opposed to blending everything.

Marvelous. I have always loved canned cream of mushroom soup, but it is so danged salty and fatty that I don't buy it much anymore. This is a knockout alternative. I didn't have any sherry or parsley flakes, but otherwise stuck to the recipe, and it came out just delicious. Thanks for a winner, KateL.
Slice caps and stems of mushrooms in thick pieces.
Heat oil in a heavy saucepan and saute the mushrooms quickly until just crisp tender.
Combine all other ingredients in blender and mix until thick and foamy.
Add mushrooms to blender and, using lowest speed, blend for 4 to 5 seconds or until mushrooms are chopped into fine pieces but not pulverized. (I generally skip this step, preferring identifiable mushroom slices.).
Pour the mixture back into the saucepan and heat slowly, stirring with a wire whisk to keep from burning. Use an asbestos pad if soup is to be left on the stove.
Sprinkle thinly sliced rings from the green part of green onions on top of each bowl of soup.