Vineyard-Style Strawberries With Red Wine and Cassis
BecR2400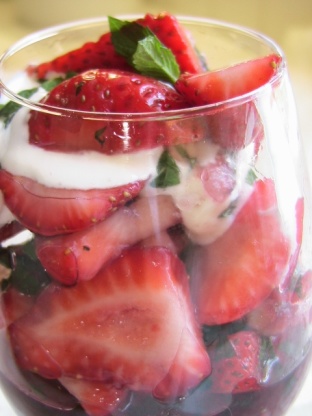 In wine growing regions, berries- particulary strawberries- are typically combined with the wine from that area, and sometimes a liqueur, and served as a dessert. Here, strawberries are mixed with a fruity red wine and black currant (creme de cassis) or blackberry liqueur (Chambord or creme de mures) and served in the classic way, spooned into wine goblets. If desired top the desserts with shredded peppermint leaves and a spoonful of sour cream or creme fraiche, and serve them with cookies. Delicious, light and refreshing!
3

cups ripe strawberries, washed and hulled

3

tablespoons sugar

3

tablespoons cassis liqueur (black currant-flavored liqueur) or 3 tablespoons creme de mures liqueur (blackberry-flavored liqueur)
3⁄4 cup dry fruity red wine

1

tablespoon shredded peppermint

4

tablespoons sour cream (optional)
cookie (optional)
Quarter the berries, and place them in a bowl with the sugar, liqueur, wine, and mint. Mix well. and serve immediately, or refrigerate (for up to 8 hours) until serving time.
Spoon the berries and marinade into wine goblets for serving. If desired, top each dessert with a dollop of sour cream, and serve it with a cookie.