MsPia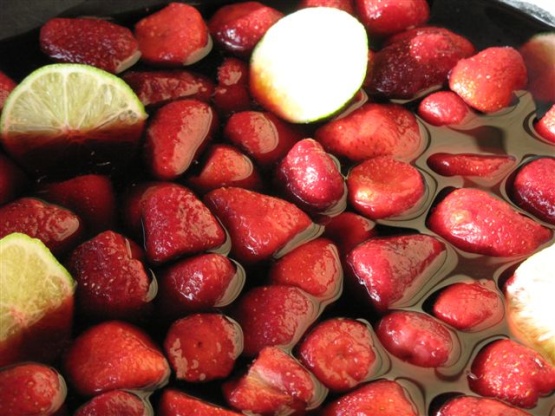 Most entertaining in Iceland is of the small dinner party variety & punch is not an esp favored beverage unless being served to a large crowd. That said, I found this recipe in my MasterCook computer program & the National Pork Producers Council was acknowledged, although I fail to see the connection. It did sound good to me, so I decided to share it & hope it will prove a good choice for 1 of your occasions. Enjoy! (Time does not include chill time).

Top Review by MsPia
It was a great punch (I do have a little headache today). I added just a touch of sugar since I do not like sweet drinks and it turned out perfect for my taste buds. I used to nice bottles of Cava. This is the first punch I had in my life and even thou I enjoyed it, I think I rather drink the Cava with dinner and have the Port after dessert. Thanks twissis another PAC winner.
Combine 1st 3 ingredients w/sugar & lime slices in large saucepan. Bring to a boil, reduce heat & simmer 5-10 minutes.
Remove from heat & cool. Strain into large bowl, cover & chill for at least 1 hour.
Pour over ice mold in punch bowl, add sparkling wine + bitters & serve immediately in wine glasses.
NOTE: Yield was based on 2 5-oz servings per person.
SERVING IDEA: I hate waste & think it would be a good idea to reserve the strawberry solids strained from the simmered wine, puree them w/an immersion blender or food processor & freeze the puree in an ice cube tray to use in place of the suggested ice mold. :-).