loof751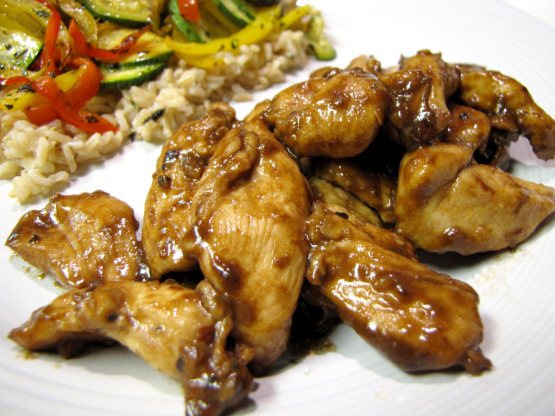 From "Stir-Frying to the Sky's Edge" by Grace Young, a wonderful cookbook that explores Chinese cooking around the world, as interpreted in Trinidad, Jamaica and Peru, as well as in more familiar areas. This is described as a typical Hunan family-style stir fry.Update: The reviewer is right, this is a lot of salt, and I had not focused on that when posting this in response to a request. A whole day's salt in one serving - like some restaurant meals. I've revised the recipe to eliminate the salt and reduce the amount of soy sauce. The sodium level has been cut by almost two-thirds.

This is a wonderful chicken dish! I know you made some adjustments to the recipe since the previous review and the changes you made must have fixed it up - it's delicious! I used chicken breasts instead of thighs, otherwise made as directed. Spicy, a little tangy with the vinegar, and the chicken was the perfect texture - moist and tender. Thanks for sharing this recipe!
In a medium bowl combine the chicken, 2 tsp of the dark soy sauce, 1 tsp soy sauce, 1 tsp of the rice wine, sugar, cornstarch, ground Sichuan peppercorns, and salt. Stir to combine.
In a small bowl combine the sesame oil and the remaining 2 tsp dark soy sauce, 1 tsp soy sauce and 1 tsp rice wine.
Heat a 14 inch wok or a 12 inch skillet over high heat until a bead of water vaporizes within 1 to 2 seconds of contact. Swirl in the peanut oil, add the scallions, ginger, garlic, and red pepper flakes and stir-fry 10 seconds or until the aromatics are fragrant.
Push to the aromatics to the sides of the wok, carefully add the chicken and spread it evenly in one layer in the wok. Cook undisturbed for 1 minute, letting the chicken begin to sear. Then stir fry 1 minute or until the chicken is lightly browned but not cooked through.
Swirl the soy sauce mixture into the wok and stir-fry 1 minute or until the chicken is well-glazed with the soy sauce.
Swirl in the vinegar and stir-fry 30 seconds or until the chicken is just cooked through.
Serve with rice.