Vinegar and Sugar Cucumber
loof751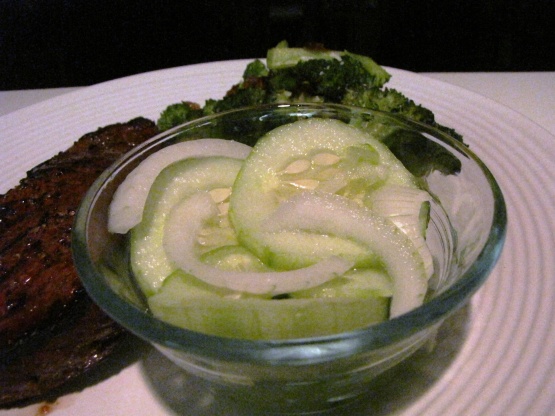 My mom makes this during the summer when we have cookouts. I always loved cucumbers this way and it tastes even better the next day!

These are pretty good ...never had them with sugar before. I like it better without...I guess it's just what you growup with. Thanks anyway.:)
In a large bowl mix first 3 ingredients.
Peel and slice cucumbers and onion and add to vinegar/water/sugar mix.
Cover and refrigerate for 1 hour before serving.
If all the cucumbers and onions are eaten reserve the vinegar/water/sugar mix and add fresh cucumbers and onion.
My servings are an estimate, as I can eat the whole bowl myself :) The cooking time is actually the refrigeration time.