Village Chocolate Chip Cookies
MA HIKER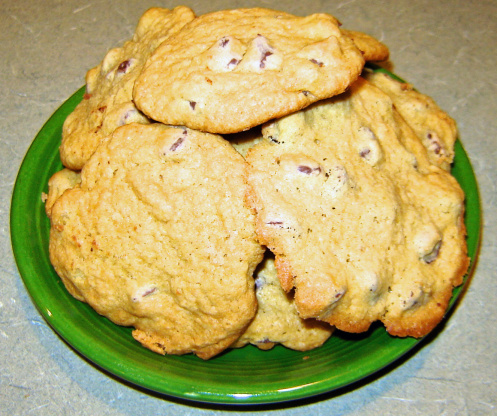 Just like mommy's cookies, soft and chewy.

Well I love chocolate chip cookies so you don't have to twist my arm to try a new recipe! these are great! My kids love them. My only question is that the directions refer to mixing in vanilla sugar but there is none listed in the ingredients. so I added 1 tablespoon of my homemade vanilla extract (i picked up the tip to use a whole tablespoon in cookie recipes from someone on this site!). Despite this confusion, they are delicious!
Preheat oven at 350 degrees.
In bowl cream together sugar, brown sugar and margarine.
add egg and vanilla sugar and mix well.
In seperate bowl combine flour, baking soda and salt.
Add gradually to wet mixture.
Once fully incorporated add chocolate chips. Place on baking sheet tsp size balls.
Bake for 8 minutes.