Vij's Yogurt and Tamarind Marinated Grilled Chicken
Nelka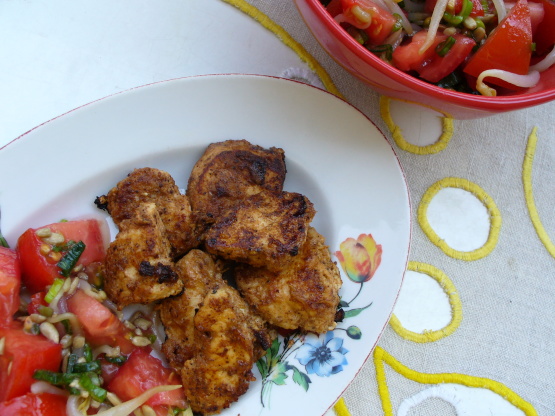 Here is another excellent recipe of Vikram Vij from his restaurant Vij's in Vancouver. Lots of flavor but very simple to make. I post it as it is originally, but I did cut down on the salt. The recipe said 1 1/2 tablespoon of salt! I think it was a mistake. I have after making it twice cut it down to 1 1/2 teaspoon. Feel free to use more. If you ever visit Vancouver BC...you must go to Vij's!!!

Top Review by KWB
This is a great marinated/grilled chicken recipe. I fixed it hot for dinner, then cold over baby greens with red peppers and fried goat cheese and a squeeze of lemon the next day for lunch. I made my own tamarind paste (thanks to Lopez's market nearby)--wasn't too bad--just peel the dried seed pods and put the sticky seeds into simmering water, allow to sit and soften, rub the paste off the seeds, then strain the seeds out. Simmer to desired consistency. Mine was like apple butter.
In a large mixing bowl combine the yogurt, tamarind, garlic, canola, salt, cayenne and garam massala.
Add the chicken, mix and make sure the chicken is covered with the marinade.
Cover and marinate for a minimum of 4 hours but 8 is prefered.
Preheat a grill, barbeque or stovetop cast-iron grill to high heat(if doing this indoors make sure you switch on your exhaust fan,there will be smoke whilst grilling on the high heat. (doing this in a pan does not work for me, it makes a mess and does not brown so well, grill or barbeque gave me a better result).
Grill the thighs 2 minutes on each side, then again 2 minutes on each side.
Check or the thighs are done, if still pink continue grilling.
Serve with the lemon wedges.
Note: Tamarind paste should be as thick as jam, if thinner use up to 1 tablespoon more.