Vietnamese Turkey Meatballs and Noodles
teresas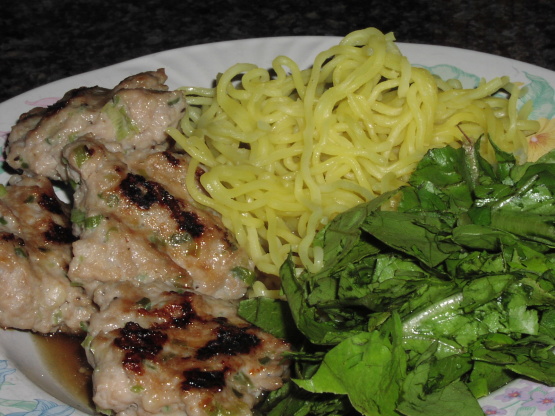 Lean, flavorful meatballs in a spicy, light broth with noodles & greens. Lots of Vietnamese flavor, but without all the calories!

Very delicious. I did things a little differently, but it still turned out well. I had made the patties earlier in the day. I put all the ingredients for the sauce/broth in a small saucepan (used a ripe jalapeno, as I had not serrano), tossed in the patties and after it came to a simmer, added some rice noodles. Once all was done, I transferred to a dish which had my torn Boston lettuce leaves and cilantro in it. The broth was very flavorful and the red jalapeno bits looked attractive. Oh, I used some agave syrup instead of cooking up the water and sugar, just a matter of available time. Definitely something I would do again.
In a small saucepan, combine the sugar with 5 tablespoons water and cook over high heat for about 2-3 minutes, or until enough liquid evaporates and a syrup forms. Remove from the heat.
Combine the turkey, green onions, 3 tablespoons of fish sauce, syrup, and pepper in a large bowl. Mix very well so all ingredients are incorporated in the meat. Marinate in the refrigerator for at least 2 hours.
In a small bowl, make a sauce by combining 2 tablespoons of fish sauce, rice vinegar, brown sugar, water, garlic and serrano pepper. Set aside.
When done marinating, shape the turkey meat into 12 meatball patties. Turn on the broiler, place on patties a sprayed pan and broil for 5 minutes. Flip the patties over, and broil for a further 5 minutes (You want a bit of charring on both sides).
Spoon the reserved sauce into four bowls, then place the pork patties over the sauce. Place the noodles next to the patties, and finally place the lettuce and cilantro in the bowl. Serve.