Vietnamese Sweet Stewed Bananas Recipe
Pneuma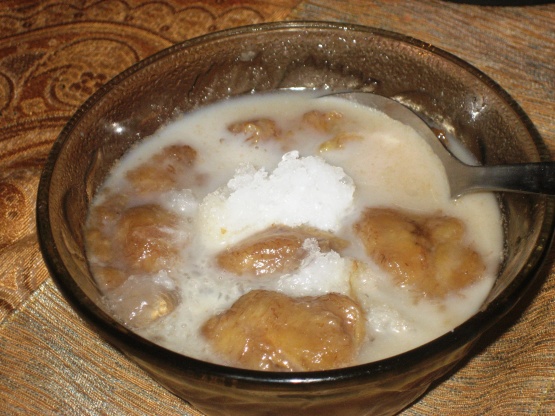 MMMMMMMMMMMM. Yummy & refreshing. Cook time includes 20 minutes cooling time.

Top Review by Pneuma
Followed the recipe as is using dark brown sugar and fresh milk. Yummy! So sweet! My mom used to make this ( I only eat) minus the crushed ice coz we usually refrigerate it. Only difficulty for me, since now that I'm the one making it was whether it was plantains or not (yes it is!).Thanks for a wonderful easy after all recipe, Elmotoo!
Slice each banana diagonally into bite-sized pieces.
Combine sugar or palm sugar and water in a saucepan. Bring to a boil, stirring occasionally until sugar dissolves.
Add the bananas and return to a boil. Lower heat and simmer until bananas are tender and the liquid becomes thick and syrupy, about 40 minutes.
Skim off any impurities that rise to the top and discard.
Stir in vanilla essence and set aside to cool.
Spoon bananas and syrup into serving bowls. Add 1/4 cup fresh cream or evaporated milk or coconut cream to each serving.
Top with crushed ice.