Vietnamese Soft Rolls with Crab
Bergy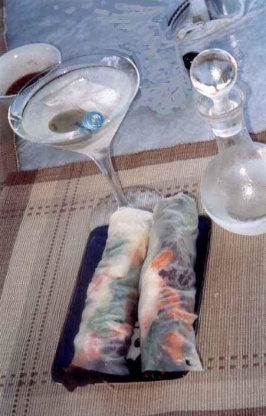 A very refreshing roll, much like an updated goi cuon, with a choice of two Asian dipping sauces. Served as an appetizer, these rolls make 16, but as a part of a main course, these serve 4 as part of an Asian meal. The rice papers used in this recipe may be found at high end grocers or Oriental markets and are called "Banh Trang".

Top Review by Bergy
Exceptional recipe - I served this recipe as an appetizer. Your instructions are so clear even a first time user of rice paper would be able to follow (I have usedrice paper often but I remember the first time). The hoisin sauce is flavorful yet not too spicy - I put in the peanuts just before serving so there was an extra crunch in the sauce. The Nuoc Cham Dipping sauce is excellent (I upped the cayenne a notch or two) the lime is just right in balancing the fish sauce and garlic. I made sure that the asparagus was still crunchy and left the head poking out of the wrap resting on the red lettuce. This time I used the larger size rice paper (about 9") but I also have some 6" which I would use next time for a smaller appetizer roll. This is a refreshing tasty recipe that is perfect for a luncheon side dish or as the salad dish, an appetizer or as a course in an Asian meal. Very nice combination Thanks Sue for a recipe that will be a favorite of mine (last sentence edited 29 Jan 04)
Mix together ingredients for the nuoc cham sauce in a small bowl and set aside.
Mix together all ingredients for Hoisin dipping sauce EXCEPT chopped peanuts in a small saucepan.
Bring mixture to a boil; then reduce heat and simmer for five minutes.
Cool Hoisin dipping sauce to room temperature, garnish with chopped peanuts, and set aside.
Het oil in a large skillet, add asparagus and cook for one minute.
Add water and cook, covered, for three minutes more; remove from heat.
Note: crab is meant to be chilled and asparagus is meant to be cooled down to room temperature when building rolls.
Fill a large bowl with warm water (deep enough to submerge a rice paper).
Dip one rice paper at a time while building soft rolls, just till it becomes pliable; remove from water and blot on paper toweling.
To build roll, on softened rice paper, place a lettuce leaf with margins on all sides (except top is ok).
Top lettuce with one ounce of crab, one piece of asparagus, a couple of pinches of alfalfa sprouts and shredded carrots, a fresh basil leaf, and a couple of cilantro sprigs.
Fold bottom edge of rice paper up over filling, then wrap right side over filling and roll up tightly into a bundle.
Place on serving platter covered with a damp paper towel while preparing remaining rolls.
Serve at once with dipping sauces and hot chile paste (sambal oelek), if desired.