Mika G.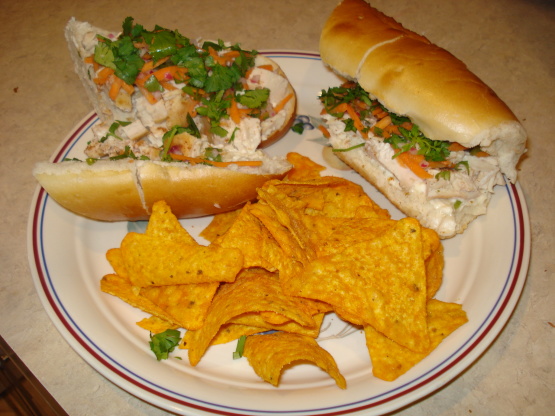 This is one of my husbands favorites.

I used to buy these sandwiches at a restaurant in Maryland called Ba-Le, it was a Vietnamese/French deli, and these are just like the ones I used to buy, very authentic. The vegetables are so good prepared this way, and with the bread toasted it's fabulous.
With chef's knife, mash garlic and salt into a paste.
Transfer to a mixing bowl and add vinegar and sugar, stirring to dissolve.
Add carrots, onions and chilies.
Toss to coat, set aside.
Slice baguette into 4 equal lengths.
Split each piece horizontally.
Spread cut sides with mayonnaise.
Arrange the meat on the 4 bottom halves.
Sprinkle with lime juice and 5-spice powder.
Top with the carrot salad and a shower of cilantro leaves.
Cover with bread tops.