Vietnamese Rice Noodle Salad
Prep 45 mins
Cook 10 mins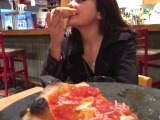 We made this dish by Bobby Flay to go with a crispy, grilled duck we're doing on the BGE tonight. We started out with a big bowl of steaming, salted edamame and a chilled Sauvignon Blanc. Note: to this we added a chopped green onion, Thai chili sauce, and rice wine vinegar just to finish it off. Great warm weather food!
4 garlic cloves, finely chopped
1 cup cilantro, chopped
1 jalapeno, chopped
1 tablespoon honey
1⁄4 cup fresh lime juice
3 tablespoons fish sauce
1 teaspoon kosher salt
1 lb dried rice vermicelli
2 carrots, julienned
1 cucumber, halved, peeled, seeded and sliced into thin half rounds
1⁄4 cup of fresh mint, chopped
1⁄2 cup napa cabbage, finely shredded
1⁄4 cup dry roasted nuts, chopped
Directions
Place the garlic, cilantro, jalapeno, honey, lime juice, fish sauce and salt in the bowl of a food processor and process until almost smooth.
Bring a large pot of salted water to a boil, add the noodles and cook for 2 minutes.
Drain, rinse well with cold water and drain again.
In a large bowl, combine the sauce, noodles, carrots, cucumber, mint, and napa cabbage.
Toss well and garnish with chopped nuts.
Most Helpful
Very tasty and goes so well with Vietnamese Pork Chops we marinated and grilled. I will post that recipe as it is a real keeper! Thanks to the chef that suggested adding Thai chili sauce, we did that as well, and served it warm.

Made for Veggie Tag- Nice rice noodle salad but the fish sauce was a little too strong here. Next time I will reduce it to about 2 TBSP rather than 3. So glad that the freeze waited til I got to harvest the last of my mint that I had growing outside. All the fresh ingredients here are very nice. I used my wavy bladed attachment on my mandolin which made them even prettier. Thanks for a nice salad that is very different and refreshing.

The flavors in this salad are so fresh and bright. I'm not a huge cilantro fan so I used half cilantro and half parsley in the sauce mixture, but I think it would have been better to use all cilantro. This was a great summer, lunchtime salad.