Vietnamese Pork and Scallion Lettuce Wraps
Derf2440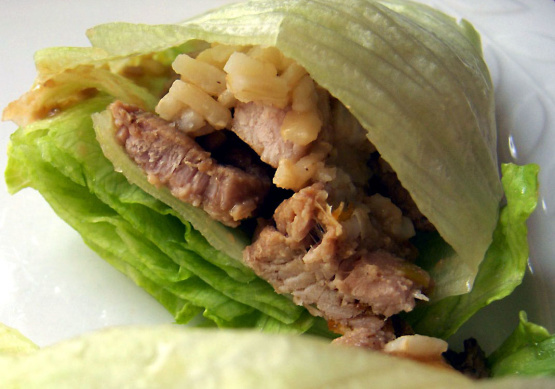 What a great, tasty meal this is. I found this recipe years ago somewhere on the Internet, and it is definitely a staple for us. You can substitute chicken for the pork, if desired. I also make just the sauce and use it as a sweet/sour stir fry sauce. Everyone assembles their own lettuce wraps, which is also fun for kids! Fantastique!

Quite delicious! Easy to make and put together. The sauce in particular was very good, I just wish there had been more of it. I left the meat in the marinade overnight and when I put the meat in the frypan there wasn't a lot of marinade left, less than a quarter cup. We really loved the marmalade flavour it added a lot to the sauce. Will be making this again, thanks for posting!
Place meat strips in plastic zipper bag.
In food processor, blend soy sauce, honey, pepper, scallions, 3/4 tbsp sesame oil, garlic and ginger.
Pour into bag and marinate meat for several hours.
Take meat out of bag, reserving marinade.
Stir fry meat until done.
Take meat out of pan and cover.
In pan, pour in rest of the marinade and the marmalade and vinegar.
Boil over high heat for 1 minute.
Layer rice, meat, and sauce on lettuce leaf.
Wrap and enjoy!