Sharynos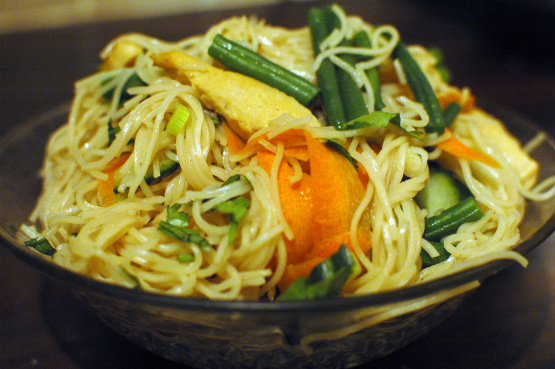 This has got to be one of the tastiest ways I know to get your veggies. You can serve this hot as a main meal or chill it and serve as a salad. It's also ideal for a boxed lunch.

I subbed rice noodles for the egg noodles, spinach for the green beans, and leftover rotisserie chicken for raw... turned out very well, and I'll definitely be making it again! If you're a fan of fresh-tasting, mildly sour Vietnamese salads, you'll probably like this one. Only reason I didn't give it a 5 was that I'd like it to have just a little more "oomph" -- a dab of chili paste, perhaps?
Bring a large pan of water to the boil and immerse the noodles, stirring to break apart the strands.
Turn off the heat, cover and leave for no less than four minutes.
Meanwhile, mix the fish sauce and lime juice in a large, deep bowl.
Stir in the sugar until dissolved.
Keeping separate piles, slice the chicken into strips and run a sharp knife down the back of the prawns to slice them in half.
Split the cucumber lengthways.
Use a spoon to scrape out the seeds and then slice thinly to make half moons.
Use a potato peeler to slice the carrot into thin curls.
Drain the noodles then add them to the dressing, along with the beans, cucumber, carrot and spring onions.
Heat two tablespoons of the oil in a frying pan, then add the chicken and cook until it browns.
Tip into the salad along with any juices.
Add the remaining oil into the pan and stir fry the prawns for a couple minutes until they turn orange.
Add to the salad.
Add the mint and coriander and toss.