Vietnamese Glazed Skinny Pork Chops
lhong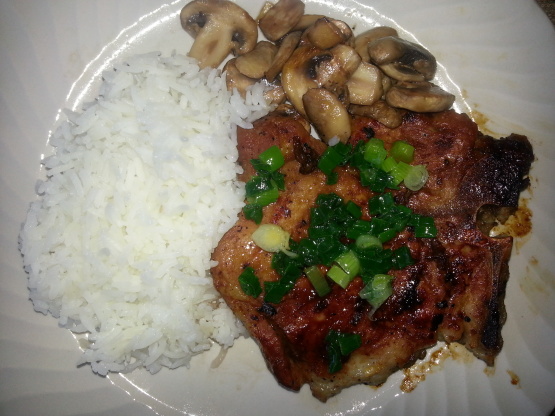 Recipe from Food & Wine, June 2008. This was awesome! Surprisingly sweet yet savory. Worked well as an OAMC dump recipe. Threw it all in a zip lock and froze it then put in frig for a couple days to defrost and marinate. Delicious! I used extremely cheap pork chops and they turned out great. Prep time doesn't include marinating time.

Came out delicious and it's soooo easy to make! I didn't have any shallots or honey, so I just used agave syrup/brown sugar instead. Threw everything in a baggie overnight and threw it onto the skillet/fry pan the next day. We used thin cut pork loin chops (no bone) cooked medium and they came out juicy and tender. Great flavor. We loved it! Would definitely make again, adds nice variety to the week nights when I don't have much time.
Note - The ingredients above are directly from the recipe; however, I didn't use the shallots when I made mine. I didn't have any. I also didn't use the peanuts b/c I forgot. But honestly, I don't think you need them. Nor did I add the salt b/c fish sauce is pretty salty tasting.
Combine vegetable oil with honey, fish sauce, garlic, shallots and pepper. Add the pork chops, coat thoroughly in marinade and refrigerate over night or place in freezer bag and freeze. (Mine marinaded more than one night once thawed - turned out great!).
Lightly season pork chops with salt (I did not do this step). Brush grill with oil (I used indoor grill pan). IMPORTANT - cook the pork over a very HIGH heat until nicely charred and just cooked through, about 3 minutes per side.
Scatter the peanuts on top and serve right away. (However, I have refrigerated these and reheated the next night in microwave on 50% power and they turned out fine.).