Vietnamese Ginger Chicken (Ga Kho)
lovviet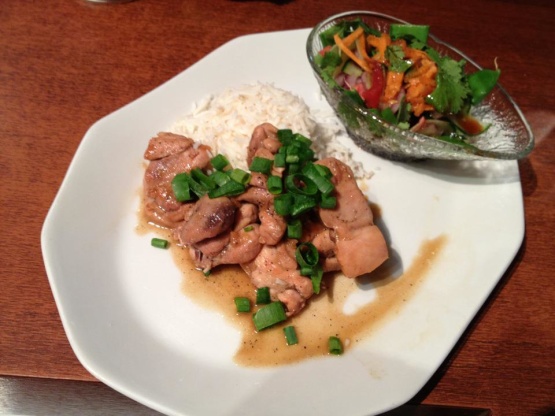 This is a basic Vietnamese dish that can be made with any type of meat and most seafood, the variation comes in pairing the protein with the herb or spice. For example, chicken or fish is paired with ginger, shrimp or pork is paired with green onions, and beef with garlic. It is often served with steamed rice, and a couple of other dishes and a soup for family dinners. All dishes are served at the same time. However, soup is usually the last dish you eat, to "wash down" your meal.

This chicken dish is a sheer delight,cooked it for my parents for tonights dinner and had compliments all night about how pleasant it was.

Instead of using fresh ginger,I used sushi ginger and tasted amazing. I also used boneless thighs so it was so tender and juicy.

I give this dish 5/5 stars,because its an easy, convenient dish to prepare and cook and it tastes great.
Heat a heavy saucepan on medium high for about a minute until pan is hot, add sugar and turn heat down to medium. Caramelize sugar for about 1 minute. Keep a close watch to make sure sugar is brown, but not burnt.
Add ginger and stir for about 10 seconds.
Add remaining ingredients except scallions. Turn the pieces and brown the chicken for about 2 minutes.
Reduce heat to a simmer. Cook until liquid in the pan is reduced to half. Sauce should be brown and thick. About 10 minutes if you're using boned in whole thighs. If you're using boneless, skinless chicken the cooking time is reduced to about 6 minutes. Over cooking will make the meat tough.
Garnish with scallion and serve with steamed rice.