Vietnamese Dipping Sauce (Nuoc Cham)
cali_love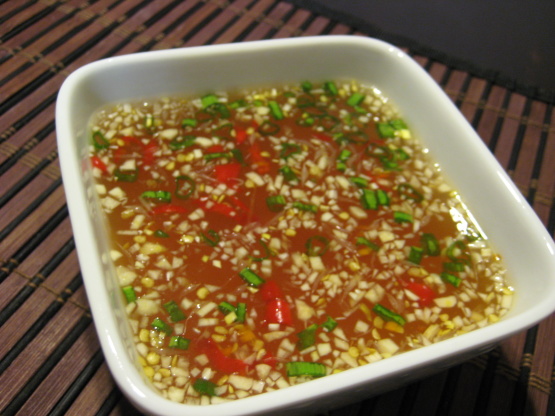 This sauce is delicious on just about anything including plain white rice. Wonderful on grilled shrimp. It is the sauce used for the Grilled Vietnamese Jumbo Shrimp on Sugarcane Sticks that I posted. Great recipe with many variations!

Top Review by YungB
Nuoc cham is good on everything. Try dipping egg rolls in it. To die for. My mom makes nuoc cham without the vinegar though and it is always at our dinner table. we used it on scrambled eggs even. :)
Peel carrot lengthwise with a vegetable peeler. Stack carrot slices and cut into very fine long julienne strips.
In a bowl, mash the garlic with the sugar. Add remaining ingredients and carrot slices and mix well.