Vietnamese Chicken Pancakes With Shrimps (Bhan Ga)
awalde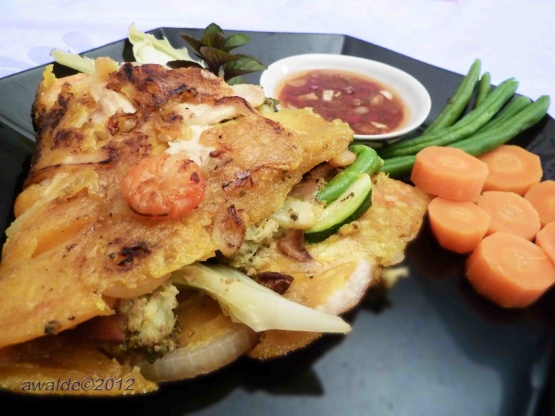 This is a basic dish that needs some preparation of the ingredients, but it is quickly prepared. In Vietnam this is served with a choice of greens, rice paper sheets, fresh mint and don't forget the dipping sauce (nuoc cham). Note: I served this with the ingredients I had on hand. Suggestions for the nuoc cham: Vietnamese Dipping Sauce--Vegan Nuoc Cham Alternative and Nuoc Cham (Vietnamese Dipping Sauce). (Recipe revised after review of JustJans)

I can see that this worked for awalde by her photo, but it didn't work for us! The batter was really thick and although I put half in each time ( I think the recipe meant me to put it all in at once) it still resulted in a thick cakey pancake nothing like the lovely light, lacy ones we had in Vietnam recently. To make matters worse, the pancakes just fell to bits when I tried to remove them from the pan.Maybe it was my coconut milk or rice flour?
1

cup rice flour (regular white rice flour, not glutinous rice flour)
1⁄2 teaspoon turmeric powder

1

cup water
1⁄2 teaspoon salt (or to taste)
1⁄2 cup coconut milk (alternative beer or water)

1

tablespoon green onion, finely chopped

2

tablespoons oil

5

ounces chicken breasts, thinly sliced

5

ounces shrimp, peeled and cleaned

1

medium onion, peeled and finely sliced

3

garlic cloves, crushed

1

cup bean sprouts

1

cup split green beans, soaked and steamed until soft

Optional garnish

some lettuce leaf (or other salad)

1

cup cucumber, slices

1

spring fresh mint leaves

10

sheets vietnamese rice paper, sprinkled with water to soften
1⁄2 cup pickled carrots or 1⁄2 cup fresh carrot, sliced

Dipping

2

tablespoons nuoc cham sauce
Combine rice flour, turmeric, water, salt, pepper and coconut milk.
Mix well into a batter.
Add green onions.
Heat your wide skillet (non sticky pan) until very hot and add the oil.
Now add chicken, shrimps, onion and garlic.
Sauté for 3 minutes until meat is just done. Set aside.
Reduce heat to medium.
Place one quarter of the meat mix into the skillet and poor one quarter of batter on it.
After 1-2 minutes add one quarter of bean sprouts and green beans.
Cover and cook 5 more minutes until set.
Fold pancake and cook about 5 minutes until crisp. Don't burn it.
Transfer to plate and serve with garnish and dipping sauce. Repeat with the other portions.
Use rice paper sheets to assemble, dip and enjoy.