jrusk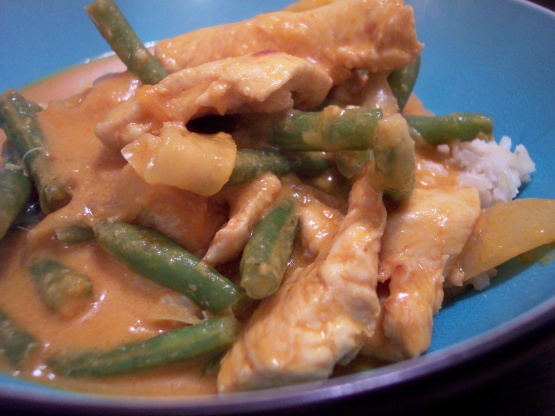 One of my favourite curries that I find quite quick and easy.

We loved this tasty curry. I will be making this again and again. I just added a bit of fish sauce at the end but it would have been fine without it too. I used green curry paste as the curry paste so I left out the chilli as the paste was pretty spicy. I threw in some zucchini and snow peas towards the end as suggested. Great recipe!
Heat the oil in a pan and fry the onion for about 5 minutes or until soft.
Add garlic, chilli, ginger lemongrass and curry paste.
Add chicken and braise on all sides, coating well with curry paste.
Cover and cook for 15 minutes over a low heat.
Remove lid, add sugar and stir well.
Pour in coconut cream and stock and bring to the boil.
Reduce heat and simmer uncovered for another 30 minutes.
Serve over rice.
I*like to add zucchini, green beans, and red and green capsicum in the last 15 minutes of cooking if I don't feel like making a separate vegetable dish.