Tom232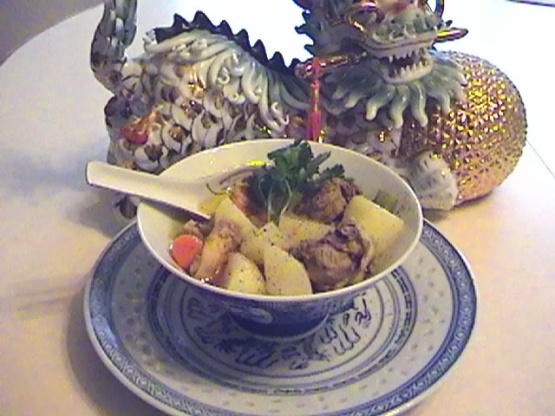 Some of the best chicken you will ever have. I have been eating this dish for 39 years since the first time my wife served it to me in VietNam and I haven't tired of it yet.

Great recipe. When I made this I realized I add more curry/salt to adjust for my taste, this was difficult as everything was in the pan and harder to mix, so to save time, next time I'll mix sauce and spices, coconut, curry, pepper, salt, chicken stock together to determine taste, and then add in everything else. Also my version had sugar in it, so I gradually added in 1/4 teaspoon of sugar, turned out 1 1/2 teaspons did it for my taste. I like this recipe on rice too.
2

lbs boneless skinless chicken, cut bite-size pieces

3

large potatoes, skinned,and chopped

2

tablespoons peanut oil or 2 tablespoons olive oil

2

large carrots, skinned and chopped

1

medium onion, chopped

2

stalks fresh lemongrass, minced

2

stalks celery, chopped

2

cloves garlic, minced

1

(13 1/2 ounce) can coconut milk

1

(13 1/2 ounce) can chicken stock

1

teaspoon pepper

1

teaspoon salt, to taste
fresh French bread or soft rye bread, sliced,for dipping

2

tablespoons India or good curry
Heat oil in large pot and fry onions and garlic for 1 minute.
Add the chicken and continue cooking for 3 minutes.
Add all the spices.
Stir everything together for a few minutes.
Let cook until chicken is tender.
Add the rest of the ingredient.
Bring to a boil and simmer gently for about 20 mintes.
Garnish with cilantro before serving in bowls.
Eat with French bread or serve with steamed rice.