Phammy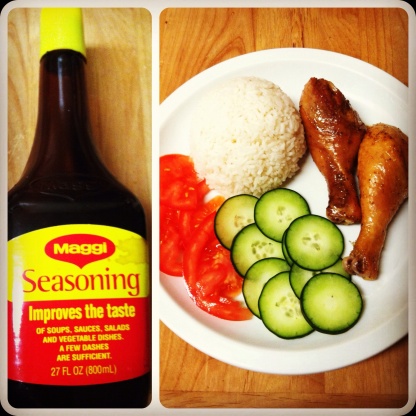 I got this recipe from a family friend, but it's a popular vietnamese dish. I try to make this for dinner every once in awhile and I always make more sauce because it goes really well with the vegetables. If you don't want to make more sauce, maggi (a type of soy sauce) goes really well with the chicken and rice.

I have made this chicken several times and not bothered to write a review. Made it again today and thought I really ought to write a review because this is honestly such a simple, almost fool proof recipe that's very forgiving and tastes divine! Serve it with Vietnamese tomato fried rice (google for recipes. I use butter, garlic, tomato paste, soy sauce and an egg), tomatoes and cucumber to make it extra special tasting. Really good for impressing dinner guests and looks lovely. Love how all the ingredients are always at hand to make this!
Preheat oven to 350 degrees.
Wash & pat dry chicken.
Drizzle a small amount of olive oil to chicken, about a teaspoon for each chicken.
Season with salt and pepper (or garlic salt if you like).
In sauce pan over medium heat, melt butter and add minced garlic. wait for garlic to brown.
Add sugar and soy sauce.
Stir sauce until hot and boiling.
Turn off heat.
Add sauce to chicken and cook covered with foil in the oven for 45 minutes, basting and turning chicken every 15 minutes. Last 15 minutes, cook uncovered.
Serve with rice, sliced tomatoes and cucumbers. Use sauce after to put on rice or enjoy with Maggi.