Vietnamese Cabbage and Chicken Salad
Parsley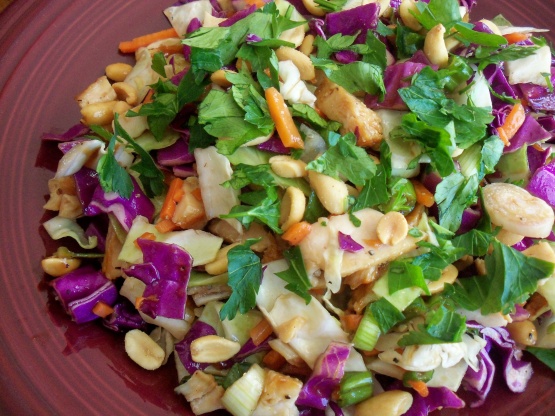 Descibed online as a Vietnamese version of a much heavier western cole slaw. Posting for Chinese/Vietnamese New Year.

I eat salads every day for lunch and this is my new favorite. Love the dressing! ***Made for Spring PAC 2012***
To make the salad, combine the shredded chicken, cabbage, carrots, scallions, peanuts, mint and 2 tbsp cilantro in a large mixing bowl.
To make the dressing, combine the dressing ingredients in a bowl, stirring well to mix.
Pour the dressing over the salad and toss well to combine.
Transfer to a large serving bowl and garnish with remaining 2 tbsp of cilantro.
Can also garnish with more peanuts, if desired.