Vietnamese Beef Stew (Bo' Kho)
Yumbolt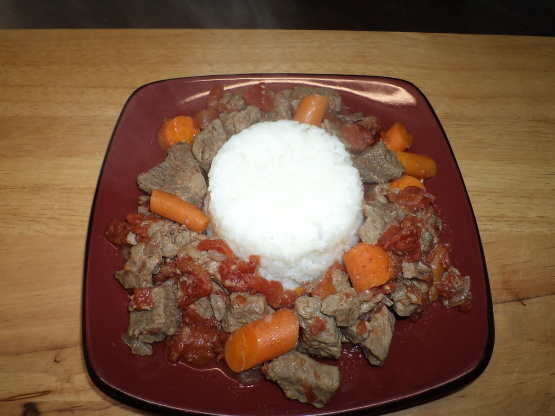 My mom and dad make this dish in the winter a lot. Every time they do, the whole house smells wonderful. One time my mom came to visit me in boarding school in England. She cooked one pot, I ate for a whole week and got on the black list of all Asians in school. It taste good steaming hot with French bread, and also very good in sandwiches. Some ingredients are available at normal grocery stores. You can get star anise and Thai Basil at Asian stores, natural food stores

I made this for my husband (whos Vietnamese) when he said he felt like Vietnamese but didnt want to go out. The first time I made it I didnt have any lemongrass, so I put in the zest of 1 lemon. Everyone, including our 3 and 4 year olds ate seconds. The left overs were better the next day and he was told by a co-worker that it tasted like the Bo Kho his mom made back in Vietnam. Will be making it for Christmas at his brothers.
Mix lemongrass, fish sauce, 5-spice powder, ginger, brown sugar and bay leaf, marinate the beef for 30 minutes.
Over high heat, heat oil in a heavy-bottemed 5-quart pot, sear the beef quickly then remove, reserve lemongrass and bay leaf for later use.
Reduce heat to medium, cook onions till translucent (5 minutes), then add tomato and cook with lid on for another 12-15 minutes.
If sauce is too thick, add a bit of water.
Add back the beef, lemongrass, bay leaf and star anise, cook uncovered for 5 minutes then add water.
Bring pot to a boil, then reduce heat to simmer for 1 hour and 15 minutes.
Add carrots and simmer for another 45 minutes until beef and carrots are tender.
Remove bay leaf, lemongrass and star anise before serving with cilantro and Thai basil.
Taste great with steam rice or French bread.