dizzydi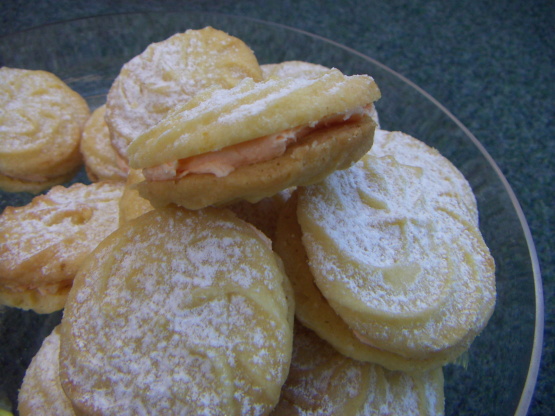 A delightful Shortbready type cookie with a lovely orange cream filling, I got this recipe out of one of my older cookbooks and thought I would share.

I mostly followed your recipe, but when it came to the cream filling, I added 2 teaspoons of minced orange zest, giving an even more intense orange flavor to these wonderfully delicious cookies! Definitely a recipe worth keeping! Thanks for sharing it! [Made & reviewed in the special event All Aboard for the L-O-V-E Train!]
Cream butter, sifted icing sugar and rind till fluffy, Add cornflour mix well. Add sifted flours gradually, beat well till smooth.
Fill into a piping bag with star tube and pipe 2.5cm stars onto lightly greased oven trays, Bake in mod oven for 15 minutes until pale golden brown. Cool on racks.
Sandwich cookies together in pairs with orange cream filling, dust with icing sugar.
Orange Cream, beat soft butter with sifted icing sugar till smooth, add a few drops orange food colour and orange juice.