Juenessa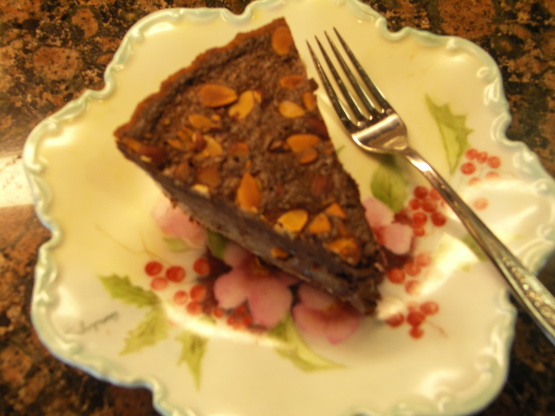 A Pillsbury Bake-Off® Contest recipe from 1959, this recipe is considered a classic.

it's delicious! however the baking time was longer than stated - i baked mine for approx. 40 minutes. thanks for the recipe!
Heat oven to 400°F
Make pie crust as directed on box for One-Crust Filled Pie using 9-inch glass pie pan.
In medium bowl, mix sugar, flour, instant coffee, cinnamon and salt.
In large bowl, beat eggs with electric mixer on high speed until light in color.
Beat in sugar mixture.
Beat in buttermilk, vanilla, butter and chocolate until well combined (filling may look curdled).
Pour into crust-lined pan.
Sprinkle with almonds.
Bake 25 to 30 minutes or until center is set and crust is deep golden brown.
After 15 to 20 minutes of baking, cover edge of crust with strips of foil to prevent excessive browning.
Cool completely, about 1 hour.