Vidalia Onion, Crab and Tomato Salad
Kats Mom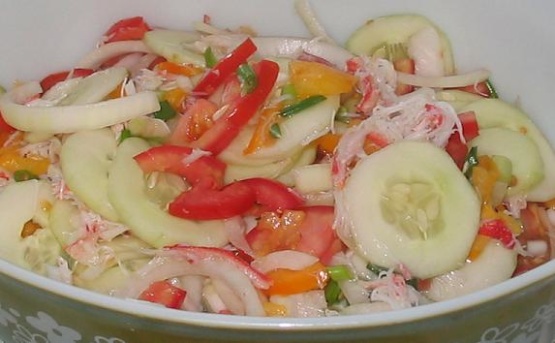 Use a sweet onion, like Vidalia, for this colorful, fresh & delicious salad. From the Food & Dining section of our local paper. Don't forget to allow time for marinating which is listed as cooking time. The recipe did not say to refrigerate while marinating, but I do. Easy to assemble. Most of the prep time is for chopping, but you may do that in less than 30 minutes if your knife skills are better than mine. Substitutions of snow crab or a flavored tuna would also be delicious.
In a large bowl combine vinegar, sugar, salt and pepper.
Add vidalia onion and cucumber slices to vinegar mixture, toss to coat.
Marinate for 1 to 2 hours.
When ready to serve, add tomatoes, crabmeat, olive oil, scallions and basil.
Toss gently and adjust seasoning if needed.