Victory's Triple Decker Club Sandwich
bmiene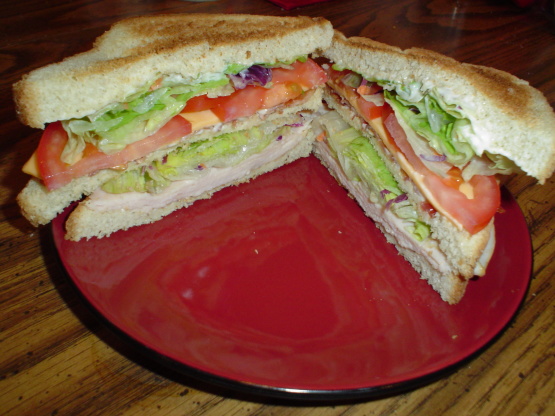 Very good and very tasty. Deli fresh meat, fresh garden tomatoes, crisp lettuce, fresh toasted bread with crisp bacon with a touch of basil and a touch of Miracle Whip topped with a slice of cheese--a sandwich lover's dream come true.

I agree, this sandwich is great and I could see myself making this for a quick lunch. My husband works close to home and comes home for lunch. Sometimes, it isn't easy taking care of a baby and making lunch on time. This...was easy. While my son was napping, I washed all the lettuce, cut the tomato, combined M.W. w/basil, and toasted the bread. I simply put the toast in our small toaster oven and just waited till my husband came home. 5 minutes before he came, I retoasted the bread then put M.W. on them and built the sandwich. It was easy and delicious. I also cheated and used crumbled bacon and just spread it over the M.W. =)
Cook bacon.
Toast bread.
Spread Miracle Whip on toast slices.
Sprinkle a little dried basil on the Miracle Whip on the toast slices.
On the first slice of toast add the chicken breast slices; add lettuce on top of chicken.
Add second piece of toast with the Miracle Whip side up; add bacon slices, add cheese slice, and add more lettuce. Top with tomatoes.
Put third slice toast Miracle Whip side down.
Cut sandwich in half; serve and enjoy.