Victor's Cafe 52 Cuban Black Beans and Rice
MomLuvs6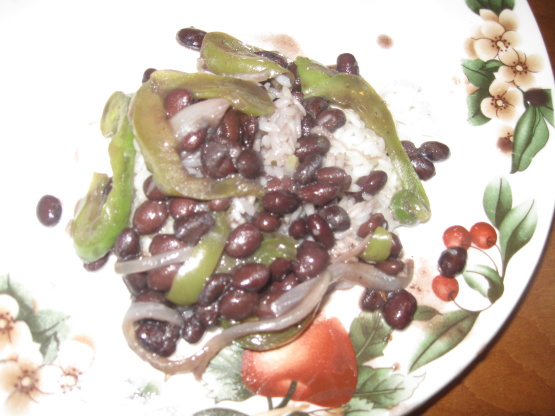 Victor's Cafe 52 is a reknowned Cuban restaurant that has been in Manhattan since 1963. I found this recipe in the newspaper about 20 years ago, when Cuban cuisine was quite novel to me. It was a great introduction!
Wash beans. Soak them in water with 1 large green pepper, sliced, until tender, about 8 hours. Cook beans in same water for 45 minutes.
In medium skillet, saute sliced onion and remaining green pepper in 2/3 cup olive oil. Once soft, add this to the beans with salt, pepper, oregano, bay leaf, and sugar. Simmer for 1 hour.
Add vinegar and wine; simmer for another hour.
Meanwhile, in a flat pan, heat 3 T. oil. Fry garlic until it is light brown, then remove garlic from oil and discard.
Add water and salt to the oil in pan and bring to a boil. Add rice immediately.
Lower flame, cover, and simmer over low heat for about 30 minutes.
When ready to serve beans, stir in 2 t. olive oil and serve the beans over white rice.
This recipe can be halved easily or the leftovers can be frozen.