Victor's Cafe 52 Cuban Black Beans and Rice
Prep 15 mins
Cook 11 mins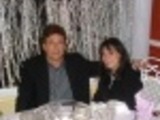 Victor's Cafe 52 is a reknowned Cuban restaurant that has been in Manhattan since 1963. I found this recipe in the newspaper about 20 years ago, when Cuban cuisine was quite novel to me. It was a great introduction!
Directions
Wash beans. Soak them in water with 1 large green pepper, sliced, until tender, about 8 hours. Cook beans in same water for 45 minutes.
In medium skillet, saute sliced onion and remaining green pepper in 2/3 cup olive oil. Once soft, add this to the beans with salt, pepper, oregano, bay leaf, and sugar. Simmer for 1 hour.
Add vinegar and wine; simmer for another hour.
Meanwhile, in a flat pan, heat 3 T. oil. Fry garlic until it is light brown, then remove garlic from oil and discard.
Add water and salt to the oil in pan and bring to a boil. Add rice immediately.
Lower flame, cover, and simmer over low heat for about 30 minutes.
When ready to serve beans, stir in 2 t. olive oil and serve the beans over white rice.
This recipe can be halved easily or the leftovers can be frozen.
Reviews
Most Helpful
We enjoyed this dish with "Pressed Cuban-Style Burgers" #229380 by Vicki in CT. Made for ZWT 5, Sultans of Spice
These were amazing, I have made them a few times now, and totaly forgot to rate them. This recipe was my first time making black beans, after this I have tried them other ways, but theese are by far the best!!! thank-you for sharing.
I enjoyed this dish. It's quite flavourful but I would have preferred it to be less salty. I also cut down the oil by 1/2 to make it a bit lower in fat. Made for 2009 (January) Please Review My Recipe tag game.