Chickee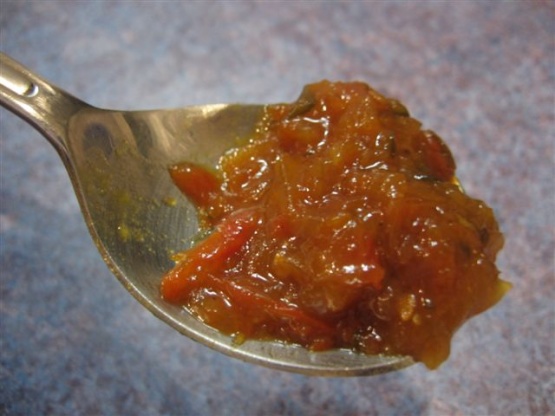 This is the tomato relish that we used to have when we were kids. It was magic then and it's magic today. Mum made it. So did both my grandmothers, and probably half the cooks in Victoria, Australia, but I had never been able to find the recipe - until recently - and I had cooked and tested just about every relish variant imaginable. The version we had when we were young had less "heat" from spices than my version, but the hotter it is the more sensational it tastes, while still keeping the original magic. It looks as if its complicated to make. It's not. It virtually makes itself. If you have one of those small vegetable choppers (rotary-type) that you bought when it impressed you at a home show and have never used since - drag it out for this as the chopping is really the only thing that takes any real effort.

This was a great way to get rid of a few kilos of tomatoes I picked up for just $1! Tasty and I liked the addition of cucumber for a different taste. I used a combination of vinegars (including cider, I ran out of others!) and put in a bit of paprika instead of cayenne, although I don't think it was the same. I used some hot english mustard as well. Thanks!
Cut up the unskinned tomatoes, onions, and unpeeled cucumbers.
Sprinkle with all the salt, stir it through, and leave overnight to draw out the liquid.
Strain off liquid- as much as you can.
Add sugar and vinegar.
Boil till tender then add mustard and cayenne pepper (you can vary this according to taste).
Mix flour and curry powder with extra vinegar and add to cooked tomatoes to thicken.
Bottle in sterilized jars.
Cover when cold.
Can be used immediately and also keeps really well.