Victorian House Breakfast Hash Browns Casserole
lazyme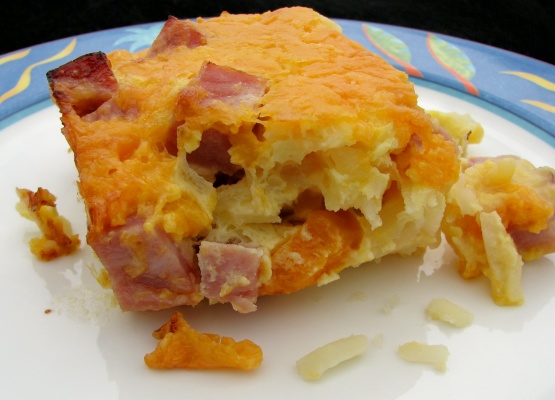 This casserole is served at the Victorian House Bed & Breakfast in Smiths Grove near where I went to college. One of my professors and her husband were friends of the owners and passed this recipe on to us when she made it in class. It was delicious.

Halfed this recipe - made as directions mentioned. Liked the browning of the potatoes - I think it brought out the taste of all the flavors! Set up very nicely and tasted very good. Thanks!
Heat oil in large skillet.
Add hash browns, onion, and bell peppers.
Cook until potatoes begin to brown.
Spray 9" x 13" baking dish with Pam.
Spread potato mixture in pan.
Top with ham.
Pour beaten eggs over all and season to taste with salt and pepper.
Gently stir to coat all ingredients with eggs.
Sprinkle with cheese.
Refrigerate overnight.
Bake uncovered at 375 degrees for 35 minutes.