teresas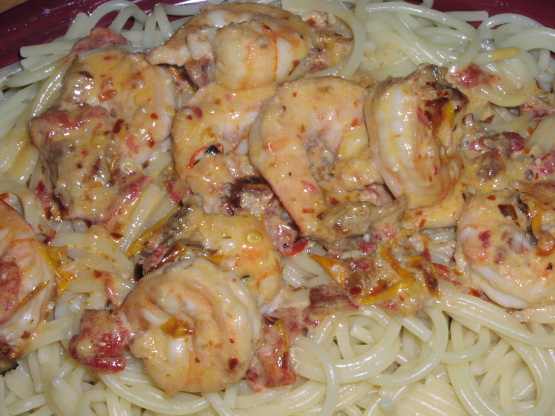 This recipe is in honour of my niece, Vicki; she felt like something shrimpy and creamy.It was delicious.

What a delicious dish! The sun-dried tomatoes, roasted red pepper and the red pepper flakes were wonderful. This dish got my mouth doing the happy dance. It was creamy with just the right amount of bite to it. What a quick and easy recipe to prepare. I did cut the amount of spaghett in half. I thought 1 lb for 4 people was a little too much. I will be putting this in my 5 star cook book. Thanks ChefDebs for posting.
Heat olive oil in a skillet over med heat. Saute garlic for 2 mins, add sun dried tomatoes and red peppers and saute for a furthur 5 minutes.
Add wine and cook until reduced , about 5 minutes.
Add shrimp and saute until just pink about 3 minutes.
Add red pepper, lemon juice and butter, when the butter is melted add the cream and parmesan. Simmer until warmed through and serve over your favourite pasta.