Vicki's Shrimp and Crab Pasta
KateL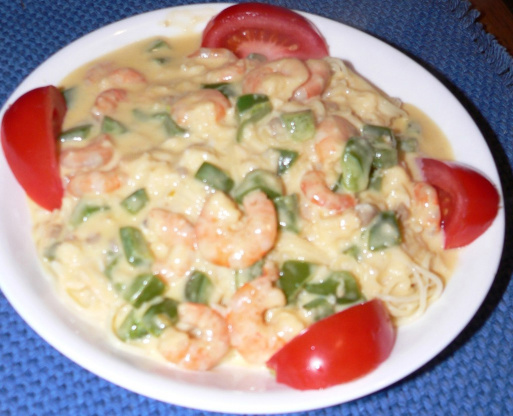 My sister made this for me one time several years ago. We all loved it so I remembered how she made it, now when she wants to make it she calls me to remind her how to make it. The last time she called I told her I was going to post it on my favorite cookbook website so she could find it anytime. So here it is Vicki!

Top Review by KateL
4 Stars! Yummy, will make often, goes together very quickly with pantry ingredients, is "comfort food" with a welcome mild bite from the jalapenos in the cheese. I would have given 5 stars had fresh crab meat been used (it is painful for a Marylander to open a can of crab meat). Velveeta was an excellent cheese choice to create a smooth sauce. It was difficult to locate the Mexican flavor of Velveeta (although I did find it today), and decided that I could use regular Velveeta with a small can of chopped green chiles (if "heat" was desired); or could use Velveeta and substitute a can of Rotel for the milk; or could use Velveeta and 1/2 cup salsa (for very mild "heat"). DH decided there was no need to shred the Velveeta, so he sliced it 1/8-1/4-inch thick; after the mushroom soup mixed in thoroughly in the sauce, I laid the cheese slices on top and stirred until the cheese was thoroughly mixed in and bubbly before I added the shrimp and crab meat. Note: once the milk and mushroom soup are added, plan on stirring slowly but constantly, do not let it burn on the bottom. But please do try this, DH can't wait to have it again and again. Made for Alphabet Soup Zaar Tag 2008.
Cook Spaghetti strings according to package directions.
In a large skillet saute the Bell Pepper in the butter till tender.
Add the Cream of Mushroom Soup and Milk to the Bell Pepper, mix throughly.
Add the Velvetta cheese, shrimp and crab meat. Cook till hot and bubbly.
Add the sauce to the cooked and drained spaghetti strings. Toss to mix well.
Serve with Garlic Bread and Fresh Salad for a complete meal.