Katzen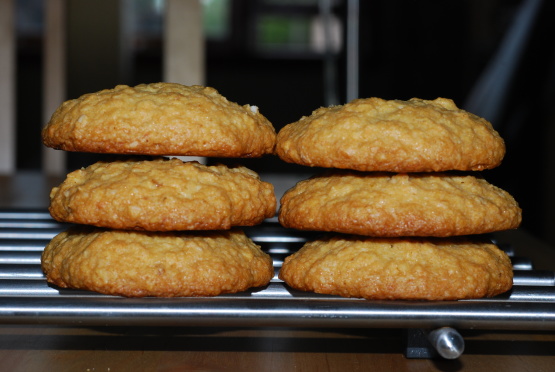 My friend Vicki is from Australia, and my daughter Adiya adores her. Possibly the only thing she adores more than Vicki are Vicki's cookies (only kidding Vicki, she does love you more). These are basically ANZAC biscuits, but a bit different. Vicki uses slightly more coconut than what I've seen in the ANZAC biscuit recipes here on Zaar, and since golden syrup is hard to get here in Israel, she substitutes maple syrup. It's not often my Didi brings home recipes from other mothers, so take notice of this one, it's good! Thanks, Vicki, for sharing these with Didi (and me).
Mix the flour, sugar, oats and coconut in a bowl. Make a hole in the center.
Melt the margarine with the maple syrup.
While that's melting, mix the baking soda with the boiling water.
Add the baking soda/water mixture to the margarin/maple syrup mixture. Mix well.
Pour this into the hole in the dry ingredient mix. Mix well.
Add the egg, mix well.
Form into cookies (1 tablespoon per cookie) and place on a greased baking sheet (I use parchment paper).
Bake at 180 degrees Celcius until the cookies are golden, around 20 minutes or so.