Vichyssoise Cream of Leek
Sageca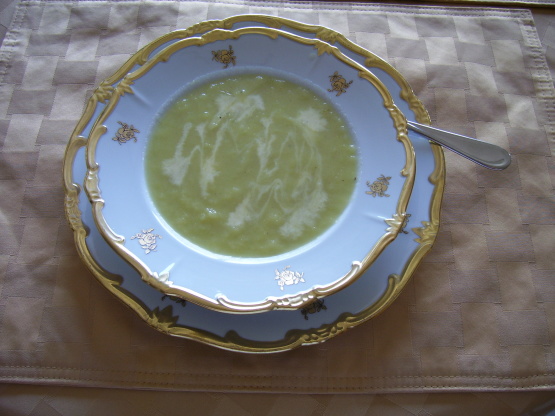 Wonderful soup made in the microwave. It can be served hot or cold with croutons.

nothing i like better than a nice cold vichyssoise in the summer months, but it was wonderful tonight,warm .the microwave saves burner space, and is just too easy-thanks so much for this recipe, it's going to be one of my "regulars" 6/07- updating to say that i have been making this for 5 yrs now and still love it! tonight i added some fresh dill, thyme and parsley, and used white pepper- divine.
In a 2 qt glass casserole place leeks,onions and butter.
Cook in microwave uncovered 4 minutes,stirring once.
Add chicken broth and potatoes.
Cook uncovered 20 minutes stirring once.
Using and electric whisk or blender, puré mixture until smooth.
Add cream and heat 1 minute.