Vic Reeves' Stilton Spaghetti With Mushrooms
Noo8820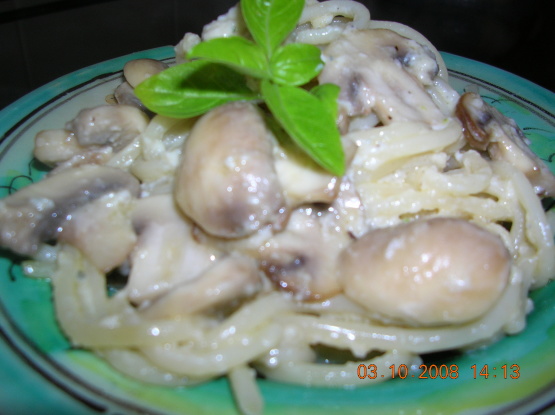 Adapted from a recipe found on the UKTV website. I know some people adore Stilton, but for those who don't - and I'm among them - simply substitute a tasty cheese that you like and that you know works well in cooking. UPDATE: Thanks to Noo, I now know who Vic Reeves is. Well, in general terms! In posting this recipe, which I did modify from the original recipe (but I can no longer remember which elements are in the original recipe, and which I added), I had absolutely no idea who he was. I just assumed he was a chef I hadn't heard of. Well he evidently isn't a chef, but he's still basically someone I hadn't - and you maybe haven't - heard of! It's just that when I adapt recipes, I always like to acknowledge where they initially came from.

I'm not quite sure what Vic Reeves has got to do with this,bearing in mind that he's a poor excuse for an alternative Northern comedian,but this isn't a bad little recipe.I halved the mushroom content and made up the difference with some blanched broccoli florets,as I thought it was a lot of mushroom,and also broccoli goes so well with stilton.Next time I think that I would add some cooked shredded chicken and/or bacon too,making it just that bit more substantial.If using stilton,be careful when seasoning,remember that stilton is already very salty.A good base of a recipe to adapt to your taste.Thanks Blue Moon.Made for ZaarTag.
Preheat the oven to 200°C/Fan 180°C/400F/Gas Mark 6. Bring a large pan of salted water to the boil, add the spaghetti and cook for 8-10 minutes or until the spaghetti is just tender.
Meanwhile, melt the butter in a large (preferably non-stick) pan, add the garlic, mushrooms and thyme and saute for 5 minutes, stirring until the juices run. Add the Stilton and cream and gently heat through, stirring until the consistency is smooth and melted. Remove the pan from the heat and season to taste with salt and freshly ground black pepper.
Drain the pasta, then return it to the pan, add the mushroom mixture, eggs and basil and mix well. Spoon either into one large, or four individual ovenproof dishes. Bake for 20-25mins (slightly less if cooking in the individual dishes) or until golden and crusty on top. Serve garnished with more fresh basil leaves.