Ashley Cuoco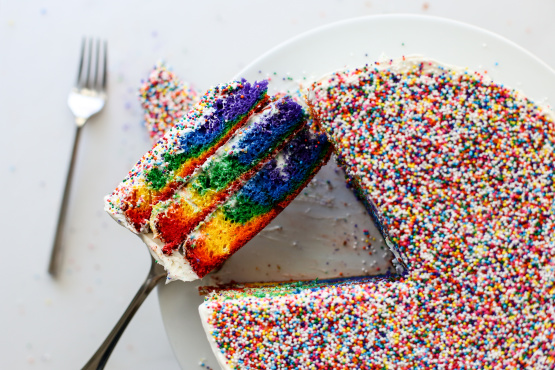 I saw a couple other recipes for rainbow cake already in the system but didn't see any that were done quite the same so thought I would share this technique with you all. It results in a VERY bold and vibrant rainbow cake that is super fun for all occasions, and you can use different colors for other things like the 4th of July you could do red, white and blue, or for Christmas you could do red and green, etc. It is very important that you use the GEL food coloring though, and not the liquid drops. And in order to do the full rainbow you need both the regular colors and the neon colors since the orange and purple come from the neon set.

Top Review by A-lady
This was so easy to do! was a huge hit with my family. I do highly reccomend you do almost 2x asmuch of the red as you do the purple. mine was more evenly colored than pic as I alloted a little less fo reach colour as I worked inward. I found 1 box of cake mix was enough for two 9" layers.
1

(18 ounce) box white cake mix (I used Duncan Hines Classic Moist White)
egg (as stated on cake mix)
water (as stated on cake mix)
oil (as stated on cake mix)
frosting (I used one tub of FunFetti Vanilla Frosting)
gel food coloring (regular and neon colors)
rainbow candy sprinkles (or whatever else you might like)
Grease two 9" round cake pans with shortening and then lightly flour each. Preheat oven to whatever the cake mix directions calls for.
Mix cake according to box directions, then seperate into 6 bowls (if doing the full rainbow). Since the first color gets spread the furthest it is a good idea to put slightly more in one bowl and a little less in each subsequently after that so the last color has the least amouont of all.
Mix in GEL coloring until desired color is achieved. Use a little for pastel colors, and use a bit more for bold and vibrant colors. Take care to put the appropriate color in each bowl if you took the extra step to put a little more in your outside color bowls. The rainbow pattern is red, orange, yellow, green, blue, violet.
Take the first color (red if you are doing the rainbow, and this will be your outside color) and spoon half into the very middle of each cake pan. You can then lightly tip it around a bit to get the color to spread some, but don't worry about it not reaching the sides, because it will by the time you are done.
Take your next color and carefully pour it directly into the middle of the first color. Once in you can again tip it a bit to spread it out some, but don't stir it or anything as that will mess up the pattern. Do this with each color until you have used all of them -- by this time your outside colors should be pushed out to the edges.
Bake as stated on your box, and allow to cool for a couple minutes in the pans before trying to remove them. Carefully tip them out onto a wire rack to cool completely (after a couple minutes I also carefully then flipped them right side up so the bottoms were on the rack since the tops tend to stick to the rack if left for too long).
Once cool, shave a little off one layer to make a flat surface (this is so the other piece can stack without tipping). You can put some sort of filling in between the layers if you want, but I just left them without for mine. Then frost your cake and top with sprinkles!
*NOTE* this can also be done in a rectangular dish if you prefer and then you would obviously just pour all of each color at a time, and frost it directly in the pan. It might also be fun to try a splatter type pattern, just taking scoops and dropping them into the pan in a swirl motion (not stirring in the pan) or putting into cupcake form. The person who told me about this also mentioned that you can use 2 cake mixes for the round pans and then just use the leftover batter for extra cupcakes or something, but for my family I didn't need quite so much cake.