Very Simple Strawberry Sauce
Debbwl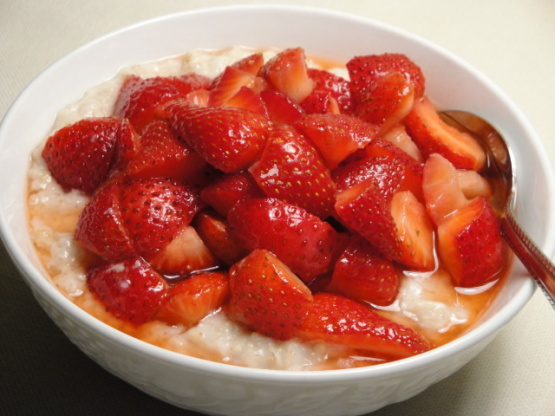 From the 2003 cokbook Celebrate! comes this very easy recipe! MOST of the prep time is for the juices to form!

Top Review by Debbwl
Outstanding! There is so much to love about this simple sauce. It can be made ahead, it is nice and chunky, is not to syrupy and best of all has a great fresh flavor. This would be great over pancakes, ice cream, Angle food cake, pound cake, custard, or as my DH did over oatmeal. Made as written and let sit for two hours when DH ask he could put over his oatmeal fallow by a two thumbs up. This is a keeper that I will be making often. Thanks for the post.
Hull & rinse berries, then drain them well. Cut berries into 1/2-inch pieces & place in a large bowl. Toss with sugar.
Add lemon juice & toss gently, then let stand at room temperature 2 to 3 hours so the juices will form.
Cover & refrigerate ~ Best if used within a 24-hour period!