Very Rustic Spinach and Feta Tart
Prep 10 mins
Cook 35 mins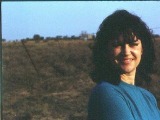 A very simple, tasty, CRUSTLESS tart to throw together in minutes! This, to me, is so typical of the wonderfully casual way in which Mediterranean French dishes are made, quickly, fresh, and no-nonsense. I used a pillow pack of pre-washed baby spinach. If you need to wash it, dry in a salad spinner or dry well with paper towels, or you might have too much liquid. This is the very simplest of rustic dishes, requiring not much in the way of seasoning. Add garlic if you wish. Do not add salt if using a salty feta! Very nice with any meat main dish. DO NOT use swiss chard for this recipe: I've tried it, and swiss chard dries out on top, while real spinach does not. Please see other suggestions in the directions!
7 ounces spinach (200g, do NOT use chard) or 7 ounces baby spinach leaves (200g, do NOT use chard)
7 ounces feta cheese (200 g, blotted dry if in brine)
1⁄2 cup green onion, chopped (125 ml, spring onion, or shallots)
1⁄2 cup heavy cream (125 ml, I used a thick creme fraiche, or use sour cream OR USE GREEK YOGHURT)
4 eggs, largest size
1 teaspoon Tabasco sauce (5 ml, or use any hot sauce)

Optional

1⁄2 teaspoon nutmeg, ground (optional)
Directions
Heat oven to 350 deg F/180 deg Celsius If you have a convection/fan oven, lower heat slightly.
Grease a normal-sized pie tin or tart plate with butter.
In a large bowl, tear up the spinach leaves. To make this less "rustic", LOL, you can chop the leaves finely!
Crumble the feta cheese over the leaves and add the chopped green/spring onions.
In another bowl, beat the cream with the eggs until well beaten and very smooth. DO use thick cream: the creme fraiche we get is slightly softer than the consistency of cream cheese, which is great! Or use sour cream, which is thicker than plain cream.
Add to the bowl of vegetables, Tabasco, and if you like, the nutmeg.
Stir this whole funny mess together.
Scrape into the greased tart plate, and bake in the pre-heated oven for 30 - 35 minutes, When done, it will be puffed up slightly in the centre, and will not wobble when you shake it.
Can wait in a warming oven.
NOTE: this recipe can be "refined" by slicing the dried leaves finely, and the final mixture baked in individual tartlet tins. In that case, serve it with a topping of thick yoghurt (Greek style) seasoned with a little salt, pepper, and a sprinkling of paprika. This way, it can be little tartlets for a buffet or other occasion -- and it will still be quick and easy to do.
Most Helpful
Add me to the ''thumbs up'' list!!! I followed the recipe exactly (cut in half) but worried about the heavy cream. Maybe will try the lo=fat sour cream or cottage cheese, next time. Yum yum! Be sure to try some nutmeg, as it really gave that special touch. . .
Wow this is a winner. Loved it! I used 1 tsp Hot chili flakes in place of the tabasco and used cottage cheese in place of the heavy cream. Had to have the suggested garlic so I used roasted garlic -It all worked and we really enjoyed your recipe

This is wonderful Zurie!! I made it rustic style. Used baby spinach and didn't even tear it. I used some slightly torn fresh basil from garden, and added a little garlic. I doubled the recipe and it barely fed the 4 of us, that's how much my hubby loved it. I also used plain Greek yogurt instead of heavy cream.