Very Quick Stir Fry Vegetables With an Italian Flair
PanNan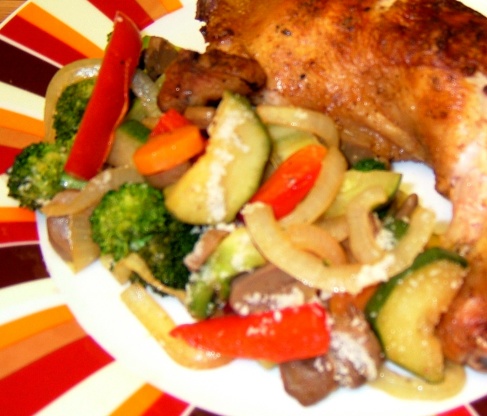 Here's a very quick way of serving mixed vegetables that just may make you put away your steamer for forever! You can make this with any vegetables you happen to have on hand.

Great flavor and very easy. I used a California Blend of vegetables with added purple onion, mushrooms and can of green beans (wouldn't recommend the green beans) and took it to our church life group as a side to a pasta dish. People were complementary and asked what the recipe was. Thanks!
Preheat wok or large skillet. Add olive oil.
When very hot, add all vegetables.
Stir fry for 3-5 minutes.
Add bouillon, balsamic vinegar, and water.
Quickly cover and let steam for 1-2 minutes.
Season with salt and pepper to taste and toss.
Sprinke with cheese and serve.