Very Quick and Easy Noodle Kugel
Vered H.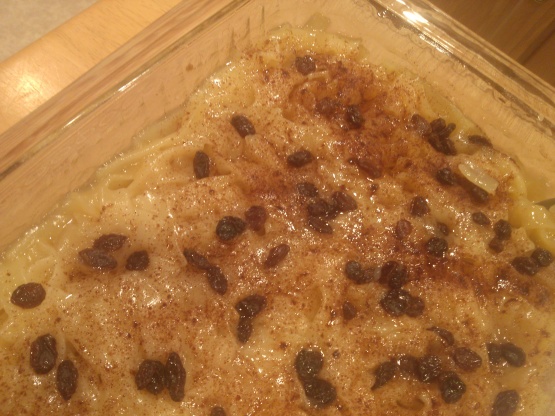 The fastest kugel ever - you don't have to cooke the noodles first
We needed a gluten-free, pareve kugel. We used gf (corn & rice flour) tagliatelle. Also, we don't use margarine so we substituted a mild olive oil. When it was still wet & bubbly out of the oven I sprinkled on cinnamon and raisins, which set nicely into the top while it cooled. We weren't sure whether or not it had to be covered while it cooked, so we did cover it and it worked great. Easy, easy, easy - and vegan and gluten free!
Mix dry noodles, brown sugar and oil in a 9X13 pan.
Pour water over noodles.
Add sugar, salt and margarine pieces.
Bake at 360 for 1 hour.