Very Mushroomy Mushroom Tart
Zurie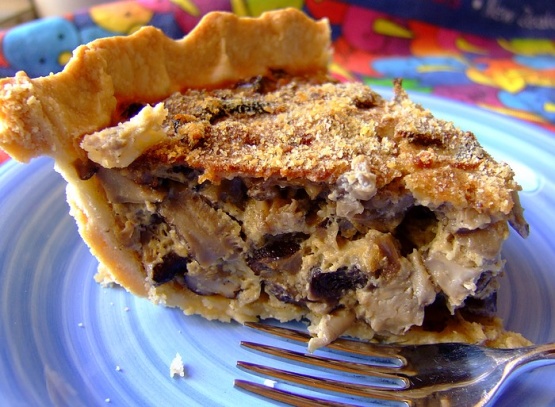 This is for mushrooms lovers: lots of mushrooms, loosely bound with a little cream and eggs! The success of this tart depends on the mushrooms: use the tastiest fresh ones you can find, and at least 3 types! I had to invent this quickly to prevent my expensive shiitakes spoiling! I used my recipe Delicate Shortcrust Pastry, used slightly less than half, and wrapped the rest for the freezer. Although I work with metric amounts, I use American weights and measures which I hope is as close as possible to the original amounts.
I cooked this today to accompany a steak, lovely taste and texture. I deviated from the recipe only in that I added an extra egg, as I had a shallow dish I wanted to be certain that it would set before overflowing. The pastry was something else, I will use this recipe often, so much better than using all flour and lard. Thanks for the recipe idea, it's going to be a keeper.
* A NOTE about the pastry: you can bake this mushroom dish in a greased pie plate without any pastry, if you like. The pastry mentioned is really delicious and quickly made in a processor: you'll have lots left over for another day and it freezes well. Line a 7" x 1 3/4" deep tart dish with the pastry, put a round of wax paper in the bottom, weight down with rice or beans, and pre-bake in a 350 F/180 C oven for 8 minutes. Then remove the paper and beans/rice carefully and discard.
Heat oven to 325 deg F/160 deg Celsius.
Clean the mushrooms except the oyster mushrooms, which are usually completely free of grit.
Cut off part of the stems, as these are often gritty or discoloured. Then slice and chop the mushrooms into a bowl.
Heat about 3 tablespoons oil in a large pot. When hot, tip in the chopped mushrooms.
Stir, over medium heat -- if heat is too low the mushrooms will render a lot of liquid.
Add more oil if necessary, don't put the lid on, stir now and then, and fry until the mushrooms have collapsed, shrunk in size, and are soft -- about 10 minutes. Keep heat medium.
Add the sherry, stir through well, turn heat up slightly, and let sherry and any liquid almost boil away. (Don't let mushrooms burn; there should be a tiny bit of liquid in the bottom).
Add the salt, nutmeg and pepper, stir through, and pull off heat.
Whisk the eggs well, and stir in the cream and the grated cheese.
Add this to the mushrooms. You could taste the mixture at this point, and add any extra seasoning you'd like.
Tip the lot into the prebaked pie shell. Sprinkle over more nutmeg, and then sprinkle well with dried breadcrumbs to prevent top from drying out.
Bake in the pre-heated oven for 45 - 50 minutes, or until the tart has risen slightly in the centre, and does not wobble at all when tested.
Serve as a side dish with fried chicken, or as a brunch dish with green salad. Can be eaten hot or cold, and would be nice on a picnic.