Very Low Fat, Delicious Oatmeal Raisin Cookies
Boomette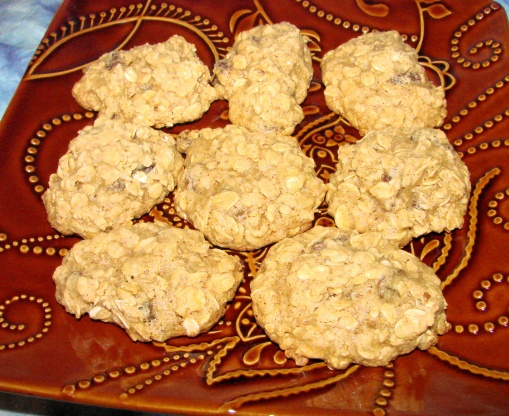 These are wonderful! They are soft and yummy, but best eaten within a day of baking; because of their very low fat content, they don't "age" well. Enjoy! Each cookie is 77 calories and <1 g fat.

Top Review by Dorka
These turned out great! I halfed the amount of sugar because 2cups seemed too much for me and they turned out sweet enough. I also used milk instead of water and didn't add powdered milk (didn't have any). Also added some dark chocolate chips. Great recipe!
In a medium bowl, combine the raisins, water, egg whites, and molasses.
Stir until well mixed.
Add the sugar, brown sugar, and vanilla.
Stir to combine.
In a small bowl, combine the flour, nonfat dry milk powder, baking powder, and cinnamon.
Mix well.
Slowly add the flour mixture to the raisin mixture.
Stir in oats.
On a baking sheet coated with nonstick cooking spray, drop batter by teaspoonfuls.
Leave 2 inches between each cookie. They do spread a little bit.
Bake at 350° for 8-10 minutes or until edges are light golden-brown (I baked mine for 7.5 minutes to keep them very chewy! Yum!).
Remove cookies from oven when they are done.
Place cookies on a wire rack to allow them to cool.
Enjoy without guilt!