Very Low Fat Cream of Sweet Potato Soup in the Crock Pot
Parsley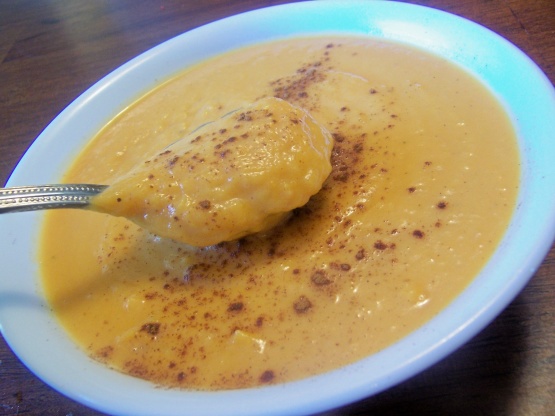 I found this recipe online in a compilation of crock pot recipes. I have tweaked it heavily to my own dietary needs. This is a lovely creamy soup, but not one with a lot of zing. This would be best for someone looking for subtle flavors. It is almost like mashed sweet potatoes. I tried it with a dollop of fat free sour cream but I did not like that as much as leaving it alone. If you don't have enough broth just make up the difference with water. It worked fine.

Yum Yum! I did as most other reviewers suggested and played with this a bit. I used 5 sweet potatoes, 1 onion, 1 apple, 1 can of condensed chicken stock and topped up with water. once it all cooked, I removed a lot of liquid (I was worried it would be too runny, and always easier to add liquid back in). I added it back until I got the consistency I liked (I also added cream to taste/consistency). And a nice big sprinkle of all spice. It was a huge hit at our Thanksgiving lunch. My almost 1 yr old daughter loved it too!
Peel and slice the sweet potatoes. Put them and the broth into your slow cooker. Cover and cook on high for about 3 hours or until the potatoes are tender.
Put the sweet potatoes and broth into a food processor (or use an immersion blender) and blend until smooth.
Put them back into the crock pot.
Add the rest of the ingredients.
Cover and cook on high for 1 to 2 hours (I left mine 3.5 and it was fine).