Very Low-Fat Black Bean And Corn Salad
jrusk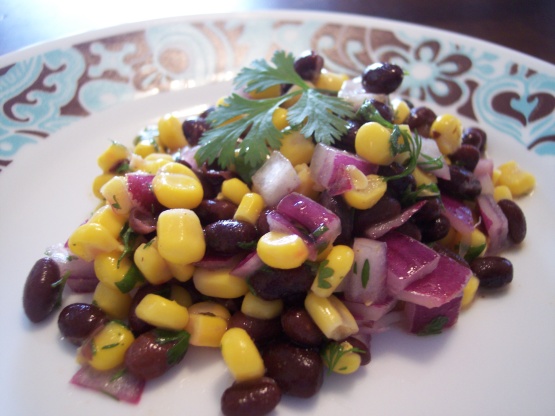 As we all know, summertime is on its way and I have been looking for some lower fat and healthy recipes. Here is a wonderful looking one that I found on a web site called all-healthy.com.

I made this last year and never reviewed it. I loved it because it DIDN'T have tomato. I make one with tomatoes, but I tried this because it didn't for a change.
I loved it.
I did make 2 changes, just because I really love deep flavors and for me a bit or garlic flavor was needed. So I added a scallion or two and some minced garlic.
Otherwise, perfect.
I used frozen corn, but obviously, no difference with that.

A great recipe. And for a couple of reviewers who said it didn't keep well over night. Try adding the leftover to a quesadilla (where the texture is not as important) and top with cheese and grill. Serve some salsa and sour cream on the side for a great quick lunch. It makes an awesome quesadilla.

I loved the recipe, thx
Mix all ingredients and chill overnight.
Spoon out 1/2 servings as needed.