ImPat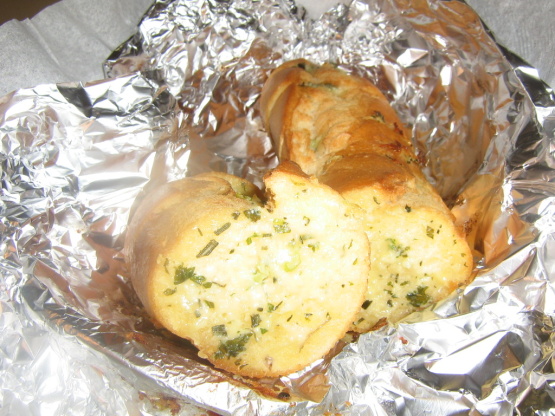 Ever since this recipe was given to me we have used it every time we want garlic bread. Everyone asks for this one after dinner!!

Top Review by ImPat
Good garlic bread which we enjoyed with recipe #332455, I definately took up opening the foil for about 5 minutes - I butter both sides of my sliced loaf and it really needs it to give it that touch of crispness. Thank you to Bass Lake Chef for submitting and loof for her recommendation in I recommend Tag Game.
Heat oven to 350 degrees.
Whiz up all ingredients (except bread) in a food processor until everything is smooth and combined.
Cut the bread almost all the way through about every inch.
Spread the butter mixture into the slices. Use it all.
Wrap the bread in foil and bake in center of oven for 15 minutes.
Open foil and allow to bake a few more minutes or until desired crispiness.
Great with steaks or pasta!