Very Easy Candy Cane Cookies
lizzy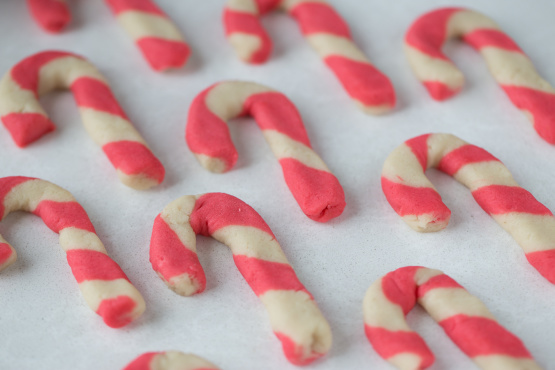 This recipe came from Quick Cooking (one of the best magazines Reiman Publishing came out with next to Taste of Home and all the others!). When you're doing massive quantities of cookies, any short-cut is appreciated. This recipe uses refrigerated cookie dough. And really, who's gonna know? Just spruce it up a bit and keep your mouth shut and take 100 % of the credit. (You could make your own sugar cookie dough too if you desire...either way, these are beautiful on a holiday tray!)

Love this recipe but my kids hate minty things! So I left out the mint, and I crush about 3 candy canes and 2 TBLSP sugar and sprinkle it on top when the cookies are done, the kids love it! The teachers raved about them last year!
0.5

(18 ounce) package refrigerated sugar cookie dough, softened

3

tablespoons flour
1⁄2 teaspoon peppermint extract
1⁄2 teaspoon red food coloring
In a large mixing bowl, beat the cookie dough, flour and extract until smooth. Divide the dough in half and mix the food coloring in to one portion.
Shape 1 teaspoon of each color dough into 6 inch ropes. Place the ropes side by side, press together, and lightly twist.
Place on an ungreased baking sheet; curve into a candy cane shape. Repeat with remaining dough, placing cookies 2 inches apart on the baking sheets.
Bake at 350 degrees for 8-10 minutes or until set. Cool for 2 minutes before carefully removing to wire racks.