Very Creamy Vegetable Chowder a la Moosewood
DeeDee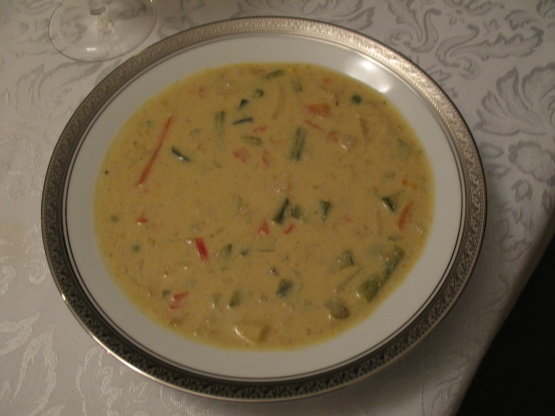 This soup is sweet and mild and filled with enough vegetables for one meal, so serve it with a peppery little salad for contrast. This is another Moosewood cookbook original!

OH MAN,This soup is still dancing across my tongue!!Even though I have every other vegetarian cook book known to man (so my DH says),I don't have the classic, Moosewood.I can see I really am going to have to get it!!Thanks for posting this WONDERFUL soup,Tish!!
In a large soup pot on medium heat, sauté the onions in the butter and oil for 3 to 4 minutes.
Stir in the celery, cover, and cook until just soft, stirring occasionally.
Add the carrots, potatoes, water or stock, thyme, bay leaf, salt, and pepper and bring to a boil; then reduce the heat, cover, and simmer until the vegetables are just tender, about 5 minutes.
With a strainer or slotted spoon, remove about 1 1/2 cups of the cooked vegetables and set aside in a blender or food processor.
Add the green beans, bell peppers, and zucchini to the soup pot and cook until the green beans are tender, about 5 minutes.
Stir in the peas and parsley, simmer for 2 more minutes, and then remove from the heat.
Discard the bay leaf.
Puree the reserved vegetables with the milk and cheeses to make a smooth sauce.
Stir the sauce into the soup and gently reheat.
Serve hot.